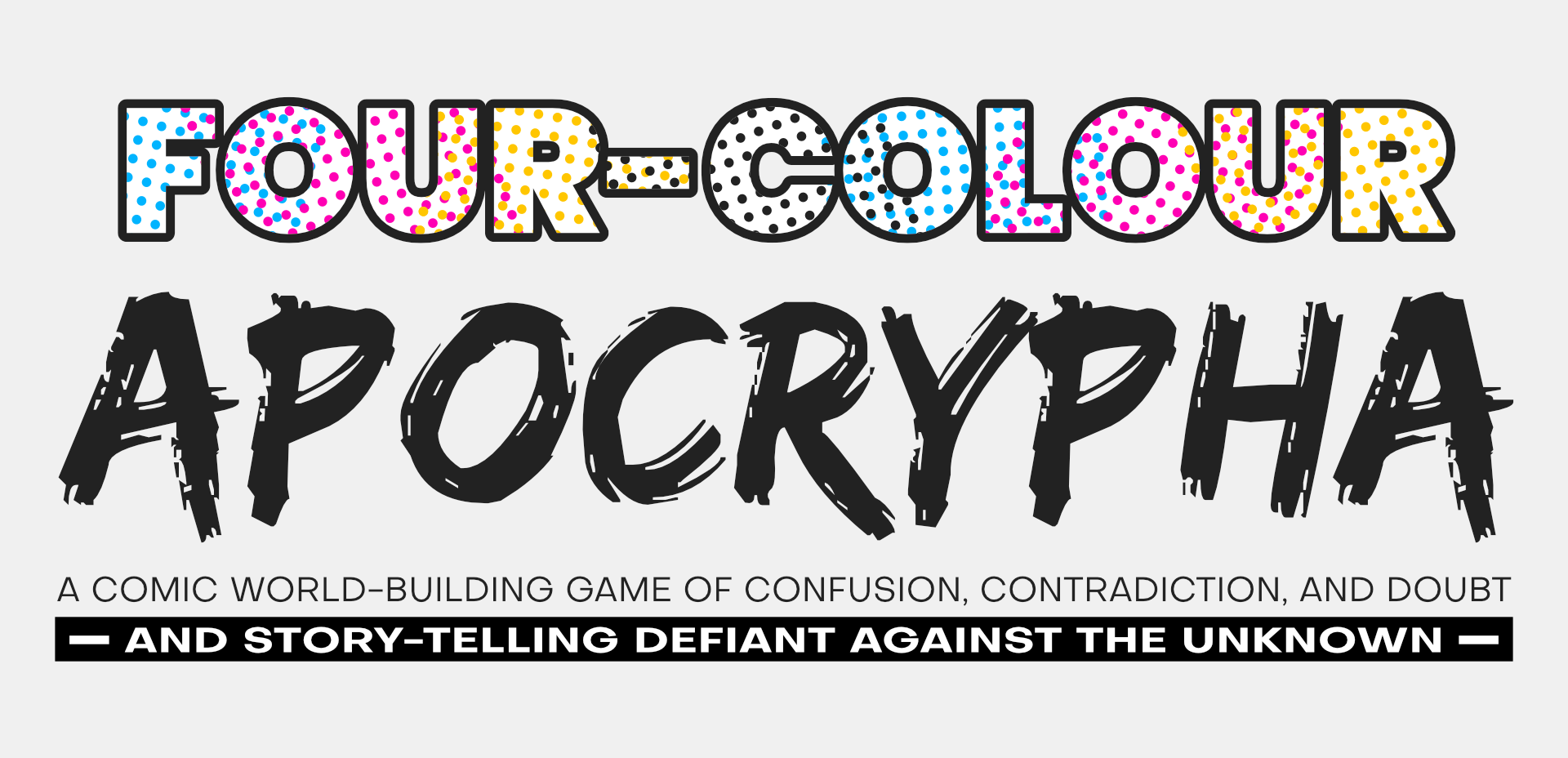 Four-Colour Apocrypha
A downloadable world-building tool
Four-Colour Apocrypha is a superhero world-building game that's not built on unshakeable truths, but incomplete facts, dubious rumours, and unproven opinions, followed up by telling the stories the people in your fictional world are telling through superhero comics! That could be classic cape-and-cowl comics, grim and gritty reboots, or bizarre psychedelic deconstructions of the whole genre—it's all up to you.

The game uses Microscope-like mechanics (and takes inspiration from the Microscope-derived i'm sorry did you say street magic and zoetrope) to build a rough timeline of gossip, rumour, and possibility:

You start out Exploring Ideas by taking actions such as Introduce a Topic (an issue people are talking about), State a Fact (make a statement that everyone can question), and Ask for Rumours (ask a question and get more than one subjective answer).
When you're done fleshing out the current era of the world, you shift to Writing Stories—synopses of superhero comics by characters taking inspiration from the increasingly weird world around them.
When you're done poking at and imposing details on these stories, you shift to the final phase in the cycle, Passing Time—the stories you've written affect the world, the world changes by itself, and fiction slowly, but surely starts to bleed into reality.
Then you advance to the next era and start the cycle all over again.

For a preview of the game, check out the FREE demo below, which covers up to the end of the first phase, Exploring Ideas. This can work as a stand-alone mini-game, without the story-telling mechanics and the more advanced time-passing mechanics.

This game includes:
The full colour landscape pdf version of the rules (theoretically screen-readable)
A print-friendly version with tiled pages
A .txt version for screen readers

Purchase
In order to download this world-building tool you must purchase it at or above the minimum price of $5 USD. You will get access to the following files:
Four-Colour Apocrypha v1_2.zip
6 MB
Exclusive content
Support this world-building tool at or above a special price point to receive something exclusive.
Community Copies
Each copy of Four-Colour Apocrypha you buy opens up a free copy for someone else who's experiencing financial hardship. If you pay double/triple/etc. the base price then you open up 2/3/etc. copies.
If you have low or no income, feel free to take a community copy! Please consider giving the game a shout-out on social media or in a community you're a part of.
Download demo