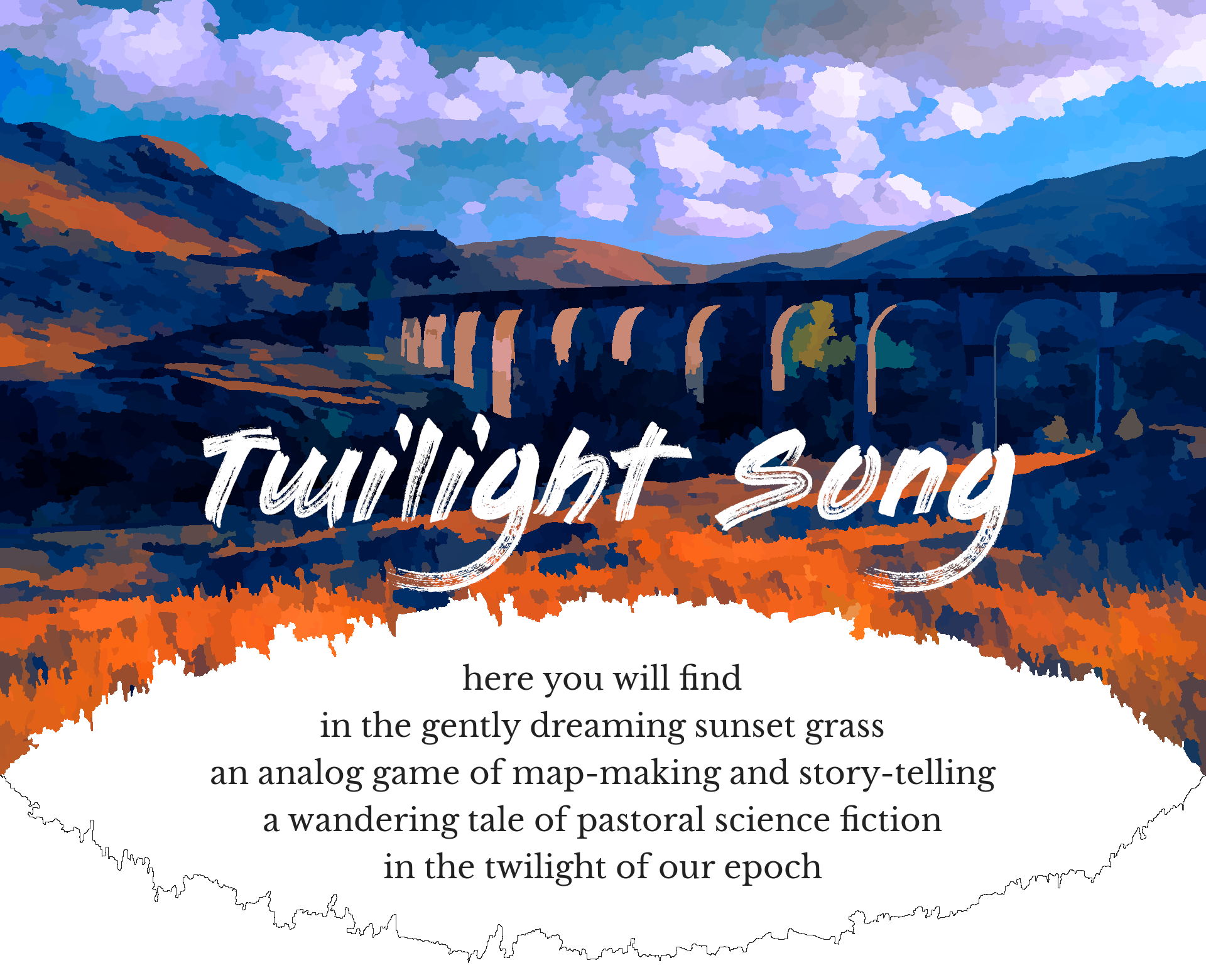 Twilight Song
A downloadable map-and-story game
Humanity thought they would go on growing, building forever into the bright blue sky. Now they know that's not true, but they're left with this: a twilight time of peace. All the time they need to live well, see children and grandchildren grow up, and understand the new world rising to take their place. When dawn comes, they may have vanished – or made a new place for themselves in the new light of day. For now, in these years, there is an opportunity to be together.
Who are you, then? You live alongside humanity, but you're different – immortal. Maybe you're a lab-grown or artificially-intelligent child of humanity, or perhaps you're something older or stranger that came out of the dark into the twilight. You live like them and with them, but time doesn't draw the same lines on your face. You're a chronicler, guide, witness, explorer, friend – this is your own immortal life to live as you see fit.

Twilight Song is a map-making and story-telling game set in the near future in the twilight decades of humanity's era. Together, you will tell the story of an immortal narrator who lives among humanity in this time of change, wonder, and quiet loss.
Its primary inspiration is the pastoral science fiction manga Yokohama Shopping Log by Hitoshi Ashinano, about a robot exploring a world inhabited by the fading remnants of humanity.
Meanwhile, its rules are partly derived from the analog map-making game The Quiet Year by Avery Alder, about a community struggling to survive and build anew in a post-collapse world.
Further inspirations include: other works by Hitoshi Ashinano; several films by Studio Ghibli; several manga by Tsutomu Nihei; Kino's Journey; Mushi-shi; The Music of Marie; the short stories of Bruno Schulz; The Moon and the Bonfires; the illustrations and paintings of Jacek Yerka; and the music of Eluvium, Toh Kay, and Joe Hisaishi.

During setup you create the canvasses on which you'll draw: a world map, with its terrain, landmarks of the present, and remnants of the past; and the home map, a floor plan of the place the narrator calls home. You also sketch out the character of the narrator. What sort of life do they lead? What habits, traditions, or rituals have they left by the wayside? Perhaps they'll learn them again, or leave them by the wayside for a new way of life.

During the game itself, you take turns to describe episodes of the narrator's life while exploring each season or advancing time to the next season. You'll draw cards to find new events and situations on the Season Oracle; act on plans you've made; and Open Your Senses, Learn Something, or Make a Plan. At the year's end you advance the story by anywhere from one night to an entire generation, witness the passing of time, and continue on to new years until the deck runs dry and the game ends.

This game includes the following files:
the 26-page full-colour rulebook
the 4-page season oracle
the 1-page interval oracle
a play summary sheet
a print-friendly file containing both oracles and the summary
a .txt copy of all files for text-to-speech apps
The screen-readable oracles are freely available in the 'demo' section below: Check them out for a taste of what the game's like.

| | |
| --- | --- |
| Updated | 7 days ago |
| Status | Released |
| Category | Physical game |
| Rating | |
| Author | Speak the Sky |
| Tags | analog, Anime, Manga, map, pastoral, Queer, Sci-fi, storytelling, Turn-based, world-building |
| Average session | A few hours |
| Languages | English |
| Accessibility | Color-blind friendly, Blind friendly |
| Multiplayer | Local multiplayer |
Purchase
In order to download this map-and-story game you must purchase it at or above the minimum price of $12.49 USD. You will get access to the following files:
Community Copies
Support this map-and-story game at or above a special price point to receive something exclusive.
Community Copies
Each copy of Twilight Song you buy opens up a free copy for someone else who's experiencing financial hardship. If your budget doesn't leave much room for ttrpgs after all the necessities, feel free to take a copy! Please consider giving the game a shout-out on social media or in a community you're a part of.
Download demo
Comments
Log in with itch.io to leave a comment.
Is it possible to do this as a solo game?
Definitely! I'd recommend acting as if there are 3 players during setup and the Open Your Senses action (or Listen to People variant), but just doing all of it yourself. Those are the only things that involve more than one person.